Texas Johnny Brown is truly one of the legendary figures of the American blues scene. Johnny began his professional musical career in Houston in the mid-1940s with Amos Milburn's "Aladdin Chickenshackers". Johnny played guitar on many of Milburn's recordings on Aladdin Records, and Milburn and other members of his band backed Johnny during his Atlantic Records recording session in 1949. Johnny also appeared on Ruth Brown's first Atlantic Records recordings which were cut during those sessions.
Johnny toured with Bobby "Blue" Bland and Junior Parker in the 1950s and 1960s as guitarist and band leader and was a studio musician for Houston's Duke/Peacock Records. He recorded a number of his own compositions for Duke/Peacock, including Snakehips and Suspense, and his distinctive guitar style graced the recordings of numerous other Duke/Peacock blues artists, including Bland, Parker, Lightnin' Hopkins, Larry Davis, Lavelle White, Buddy Ace and Joe Hinton. Johnny also wrote the beautiful blues classic, Two Steps from the Blues, which was one of Bland's biggest hits.
Three of Johnny's original songs from his Atlantic recording session, There Goes the Blues, Bongo Boogie and Blues Rock, were included on an Atlantic compilation of blues guitarists in 1986. Johnny recut There Goes the Blues for Nothin' But the Truth, his debut full-length CD, which was released in 1998 by Choctaw Creek Records. Nothin' But the Truth also marked the first time that Johnny recorded Two Steps from the Blues himself. Nothin' But the Truth was nominated for a W.C. Handy Blues Award (1999) for Comeback Album of the Year and received Real Blues Magazine's Real Blues Award as Best Texas Blues CD (New) and Best Independently Released Blues CD for 1998.
Choctaw Creek Records released Blues Defender, Johnny's critically-acclaimed second CD, November 2, 2001. Blues Defender contains ten original compositions by Johnny and a beautiful rendition of Lil Green's In the Dark.
Since Johnny returned to music full-time in 1991, he and his Quality Blues Band have performed in the United States, Canada and Europe, and have played many prestigious festivals, including the Smithsonian Folklife Festival, Washington, D.C.; the Chicago Blues Festival; the Pocono Blues Festival; the Arkansas Blues and Heritage Festival; the Portland Waterfront Blues Festival; the Lucerne Blues Festival, Lucerne, Switzerland; the King Biscuit Blues Festival; the Telluride Blues and Brews Festival; the Blues Estafette, Vredenburg, Utrecht, The Netherlands (Johnny only); the W.C. Handy Blues Awards Festival, Memphis, TN; the Kansas City Kansas Street Blues Festival; the Cincy Blues Fest; the Blues Masters at the Crossroads Festival, Salina, KS; the Hayward/Russell City (CA) Blues Festival; the Baltimore Blues Festival; the Bluestock Festival, Memphis, TN; the Molde Blues Festival, Molde, Norway; the Long Beach Blues Festival; the Charles Brown Day of Remembrance Blues Festival, Texas City, TX; the Bowie Street Blues Festival, San Antonio, TX; the Houston International Festival; the Houston Juneteenth Blues Festival; SXSW, Austin, TX; the Bluebonnet Blues & Fine Arts Festival, Marble Falls, TX: and the Mardi Gras Galveston Festival.
Johnny was honored as Blues Artist of the Year at the Willie Mae "Big Mama" Thornton Blues Festival September 22, 2001 in Houston, TX, and September 22, 2001 was declared Texas Johnny Brown Day in Houston. He has also been featured on the cover of Juke Blues magazine (England) and Southwest Blues magazine, in Soul Bag magazine (France) and several times in Living Blues Magazine. Johnny has won numerous Houston Press Music Awards for Best Blues, Best Guitarist and Best Male Vocalist. Johnny is still touring, recording and going strong, or as he would say, he's still "defending the blues".
Additional information about Johnny and his band is available at www.txjohnnybrown.com and www.choctawcreekrecords.com.
Atlantic Blues: Guitar (Atlantic 81695, 1986) includes three songs by Texas Johnny Brown: There Goes the Blues, Bongo Boogie and Blues Rock. These songs are also on The Atlantic Blues Box (Atlantic 82309, 1991).
Snakehips (Duke 1961)
Suspense (Duke 1961)
My Luck is Bound to Change (Decca 1950)
You Can't Run My Business (Decca 1950)
I'm Gonna Stop My Foolin' (Decca 1950)
Red Pepper in my Pie (Decca 1950)
2008 Smithsonian Folklife Festival, Washington, D.C.
2008 Black Diamond Blues Festival, Pittsburg, CA
2008, 2007, 2006 Bluebonnet Blues & Fine Arts Festival, Marble Falls, TX
2008 4th Annual Franklin Spring Festival, Franklin, TX
2008 First Annual Texas Birthday Bash, Calvert, TX
2007 Charles Brown Day of Remembrance Blues Festival, Texas City, TX
2007 Summertime Blues Festival, Freeport, TX
2006 Rio Grande Valley Blues Festival, Mission, TX
2006 Arkansas Blues and Heritage Festival, Helena, AR (fka the King Biscuit Blues Festival)
2006 Kansas City Kansas Street Blues Festival
2006 Riofest, Harlingen, TX
2006, 2004 Yardbird Suite, Edmonton, Alberta, Canada (Johnny)
2005, 2002, 2001, 2000, 1999, 1996, 1995 Houston International Festival, Houston, TX
2005 Stamford Arts Centre, Lincolnshire, UK (Johnny)
2004 Portland Waterfront Blues Festival, Portland, OR
2004 Lucerne Blues Festival, Lucerne, Switzerland
2004 Cincy Blues Fest, Cincinnati, OH
2004 Blues Masters at the Crossroads Festival, Salina, KS
2004, 2001 Hayward/Russell City (CA) Blues Festival
2003 King Biscuit Blues Festival, Helena, AR
2002 The Hideout at the Houston Livestock Show and Rodeo
2002, 1999, 1996, 1995 Bowie Street Blues Festival, San Antonio, TX
2002 Rio Sun Freedom Fest, Harlingen, TX
2002 Carnival Blues Cruise of the Caribbean (from Galveston, TX)
2001 Willie Mae "Big Mama" Thornton Blues Festival, Houston, TX
Johnny was honored as Blues Artist of the Year and
September 22, 2001 was declared Texas Johnny Brown Day in Houston.
2001 Mardi Gras Galveston Festival, Galveston, TX
2001 Blues on the Hill Festival, Harlingen, TX
2001 BP Power of Freedom Festival, Houston, TX
2001 Blues and Boos in Market Square, Houston, TX
2000 Baltimore Blues Festival, Baltimore, MD
2000 Telluride Blues & Brews Festival, Telluride, CO
1999 W.C. Handy Blues Awards Festival, Memphis, TN
1999 Reliant Energy Power Of Houston Festival, Houston, TX
1998 (w/his own band), 1996 (Johnny) Chicago Blues Festival, Chicago, IL
1998, 1996, 1995 Juneteenth Blues Festival, Houston, TX
1998 Bluestock Festival, Memphis, TN
1997 Pocono Blues Festival, Big Boulder Ski Area, Lake Harmony, PA
1997 Molde Blues Festival, Molde, Norway
1997 Tour of Norway and Sweden
1997 Houston Blues Fest, Houston, TX
1996 Long Beach Blues Festival, Long Beach, CA (Johnny)
1996 Chesterfield Cafe, Paris, France
1996 and 1995 South by Southwest (SXSW) Showcases, Austin, TX
1992 Blues Estafette, Vredenburg, Utrecht, The Netherlands (Johnny)
2005 Houston Press Music Awards - BEST BLUES
2001 Willie Mae "Big Mama" Thornton Blues Festival - BLUES ARTIST OF THE YEAR
2001, September 22 - TEXAS JOHNNY BROWN DAY, City of Houston, TX
2001 Houston Press Music Awards - BEST GUITARIST
2000 Houston Press Music Awards - BEST BLUES and BEST MALE VOCALIST
1999 Houston Press Music Awards - BEST GUITARIST and BEST MALE VOCALIST
1999 COMEBACK ALBUM OF THE YEAR nomination, 20th Annual W.C. Handy Blues Awards for Nothin' But The Truth
1998 Real Blues Awards, Real Blues Magazine (Canada) - BEST TEXAS BLUES CD (NEW) and BEST INDEPENDENTLY RELEASED BLUES CD for Nothin' But The Truth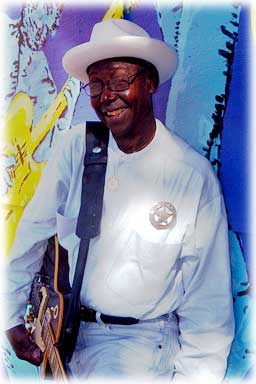 Johnny featured at the "Remembering the Duke Peacock Record Label" workshop at the Smithsonian Folklife Festival, Washington, D.C., 2008, where he was interviewed by Dr. Roger Wood, professor at Central College, Houston Community College System, and author of the books Down in Houston, Bayou City Blues and Texas Zydeco
Johnny joined legendary steel player and producer Lloyd Maines, Austin, and Max Baca, bajo sexto player with Los Texmaniacs, San Antonio, on the "Texas Guitar Traditions" workshop at the Smithsonian Folklife Festival, Washington, D.C., 2008
Feature article on Johnny in Living Blues Magazine, January/February 2003 (Issue 167), written by John Brisbin
Johnny interviewed about Houston Blues on "the connection", on Channel 8, Houston's PBS affiliate, 2003
Johnny interviewed for and pictured in Down in Houston, Bayou City Blues, a book by Dr. Roger Wood with photographs by James Fraher (University of Texas Press, 2003)
Johnny and the Quality Blues Band performed on "The Debra Duncan Show" on Houston's KTRK Channel 13 (ABC), 2002
Cover article on Johnny in Southwest Blues, May, 2001, written by James Nagel
Texas Johnny Brown - A Houston Bluesmaster, cover article on Johnny in Juke Blues (a London blues quarterly), Issue 41 (July, 1998), written by Brian Baumgartner
Johnny's photograph featured in The Blues is a Feeling by James Fraher (Midwest Traditions, February 1998), and State of the Blues by Jeff Dunas (Aperture, September 1998), books of photographs of American blues musicians
Live internet chat with Johnny at the Pocono Blues Festival, July 27, 1997, produced by HPI on Location (Howell Productions, Inc.)
Profile of Johnny in Living Blues Magazine, January/February, 1997 (Issue 131)
Article on Johnny in Soul Bag (the venerable French blues magazine), Automne 1996 (Numéro 144), written by Christophe Mourot
Johnny and the Quality Blues Band performed on "Crossroads" on Houston's KTRK Channel 13 (ABC), 1995
Johnny profiled in Meeting the Blues: The Rise of the Texas Sound, a book by Alan Govenar (Harper Collins/Da Capo, September 1995)